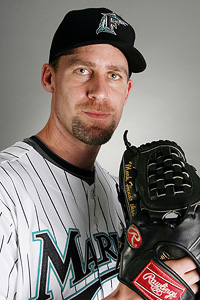 What is Andy MacPhail thinking?
That's got to be the question on the dozen or so Orioles fans left in Maryland.
Yesterday the O's agreed to terms with Mark Hendrickson. Hendrickson is a 36-year old journeyman who has never really been any good at any point in his career. If he was a right-handed pitcher who wasn't eight-feet-tall he'd probably be working a cell-phone kiosk in a mall.
Hendrickson's career ERA is 5.07. His ERA the last 2 seasons, in two of the most pitcher-friendly stadiums in the majors was 5.21 and 5.45. God only knows how his ERA will fare in Oriole Park, something akin to a band-box, in the AL East, where the #9 hitter is not swinging a toothpick.
MacPhail says he views Hendrickson as a long relief/spot starter type guy. Funny, I thought our entire pitching staff was filled with that kind of AAA-fodder in 2008. Now we're going to pay more than the minimum for a guy like this?
Was Lance Cormier and his 4.02 ERA not good enough for you in blow-outs?
OK, I'll be fair. As a reliever, Hendrickson's ERA is not terrible. Over his career, it's actually a respectable 3.39 in 103.2 IP. But last time I checked, we're still paying Jamie Walker to suck, so unless we're going to release him during Spring Training, I don't know how we're going to explain 2 worthless LHP in the bullpen.
My opinion? We're being told Hendrickson is viewed as a spot starter, but in reality, he's likely our #2 or #3. It's the typical O's move. "Hey, Hendrickson was good against us when he was with the Rays. He's got to be good right? Throw him in the rotation! What the hell!"
Look up lazy move in the dictionary and pictures of Mark Hendrickson and Andy MacPhail will be staring back at you. There are any number of minor league free agents who could out-pitch Mark Hendrickson and it should be Andy MacPhail's job to find that guy and sign him instead of giving innings to Too-Tall Hendrickson.
Maybe I'm miffed because I just watched Severna Park-native Mark Teixeira sign with the fucking Yankees or maybe I'm pissed I've got to take down the Christmas tree in a few days. And not because I'll miss it.
But foul mood or not, Mark Hendrickson does nothing to improve the Orioles now, or in the future. And it's high-time we start finding guys who at least have some potential to do that.
I thought Andy MacPhail wasn't going to make these kinds of moves. Guess not.