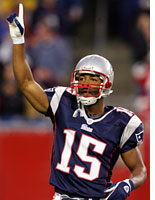 The Ravens agreed to terms with former Patriots and Bengals WR
Kelley Washington
today.
Washington, 30, is not going to instantly improve the Ravens passing attack. He'll likely compete with
Demtrius Williams
for the #3 WR spot and pitch in on special teams. But, he will make the current WR corps taller, at 6 foot 3 inches.
Mark Clayton
and
Derrick Mason
both stand in at 5 foot 10 inches, and Williams is an inch shorter than Washington.
And apparently, the Ravens were really impressed with Washington, and picked him out of a group of receivers that included
Jerry Porter, DJ Hackett
and
Tab Perry
, so maybe Washington can be more than a warm body.
I do remember him doing some crazy touchdown dances in Cincinnati so maybe he'll be good for the entertainment.
Washington has a career 854 receiving yards good for 16.6 yards per catch and 9 TD in 54 games over 5 years in the NFL.
****
The Ravens placed OL
Willie Anderson
on the retired/reserved list today, signaling Anderson's likely retirement. The Bengals thought he was going to retire when they released him before the 2008 season, but the 34-year-old Anderson signed with the Ravens instead.
Last month, the Ravens took
Michael Oher
in the first round of the NFL Draft. While it might be a stretch for Oher to start immediately, it did signal the end of Anderson in Baltimore.