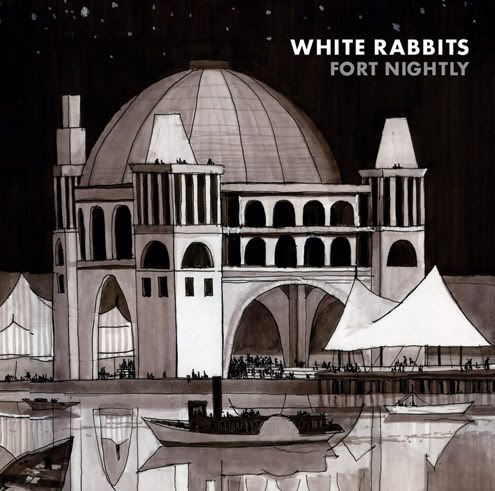 I don't know about you, but I am always trying to find good new music. And when I first came across White Rabbits on Sirius radio's Left of Center, I was eager to dive into the NYC 6-piece band's debut offering,
Fort Nightly
.
The White Rabbits sound is very reminiscent of The Walkmen, circa
Everyone Who Pretended to Like Me is Gone
. Except here, the arrangements are much more polished and the band has fused their sound with a very agreeable, albeit minor, Latin/Calypso flavor. And while
Fort Nightly
could very easily turn into a commercial for a Caribbean island, White Rabbits do a good job of keeping the Latin/Calypso influence from taking over the entire record.
The band fills out the rest of their musical space with a a slightly out of tune piano, razor sharp guitar licks, maracas, tamborines and fuzzy drums. And it's a plus that there is so much happening in the background, since Matthew Clark's vocals lack an edge and are usually free of emotion. Whereas bands like Wolf Parade, Arcade Fire, and The Walkman have an instantly recognizable lead vocalist, Clark fails seduce the viewer into hanging onto every word he sings. Clark has the pipes, but all too often he comes across as cover-band generic.
That said, the arrangements really work wonders to compensate for the lack of a gripping vocalist. The first 7 or 8 songs of the album are close to perfection, but the album does tend to slack off toward the end. "The Plot" is sure to be the hit of the album, containing an aggressive guitar riff that picks up from the beginning of the song and lasts until the very last note. Clark's anonymous delivery actually benefits on this track, as he becomes a narrator using catchy cinematic wordplay: "He gets up late/He gets upset/I watch it all happen from the foot of the bed" before erupting into a chorus of "He's not impressed." Without a doubt, "The Plot" is the album's most polished and catchiest track.
If there is one drawback to
Fort Nightly
, it's this. The album is all there in the first listen. You may pick up on a certain aspect of a song in repeat listens, but it won't conjure up many emotions or images the second or third time through. And that comes from the White Rabbits knowing exactly what they want to do. Had they searched around helplessly in the dark for a feeling or an image every once in a while, they may have given this album a deeper layer that it desperately needs to hold up in repeat listens.
That said, this is an enticing debut album from an enticing band. And you know what they say about rabbits, so I'm sure we'll be hearing from this band in the future. I only hope they take a step back and come to the table a little less sure of themselves the next time around.
Fort Nightly
isn't going to make you stand up and demand change, and it isn't going to help you get over a broken relationship. But it is great music to have on as you're about to go have a night out on the town. It's full of energy and it's loud, and sometimes that's all you need.
ALBUM SCORE:
*** (out of ****)
TOP SONGS:
"Kid on My Shoulders", "The Plot", "Navy Wives" and "While We Go Dancing"
SEE THEM LIVE?:
Yes