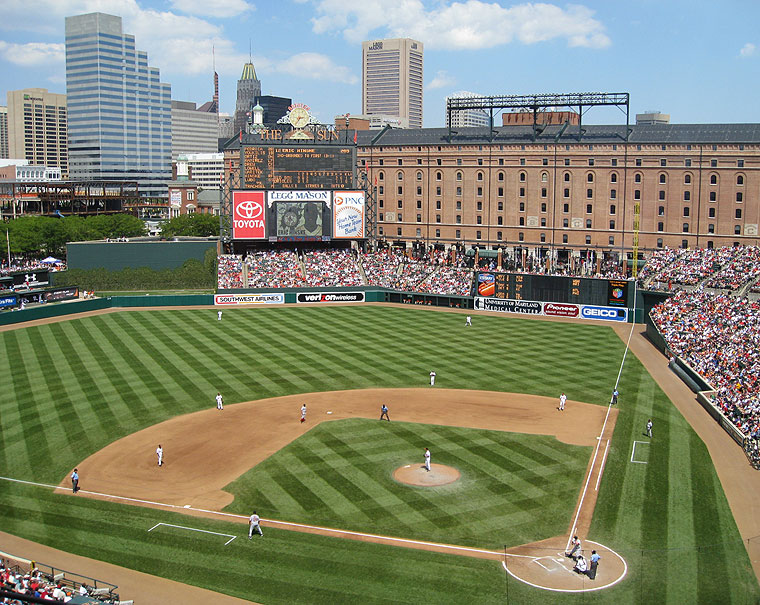 While the current Orioles slide slowly into their late-season funk, with the team seeming to win only games when Jeremy Guthrie starts, I got nostalgic for the early 90's O's teams while scanning the O's Franchise Encyclopedia over at Baseball-Reference.com, which is quite possibly the second-best web site of all time, behind Wikipedia of course.
Not that I didn't know it already, because these O's teams were essentially the teams I grew up on, but I'll be damned if the O's of that era weren't a competitive bunch from the "Why Not" year of 1989 right up until their last winning season of 1997.
After the 1983 World Series, it is widely regarded that the Orioles failed to produce quality players and their farm system became a barren wasteland. It may be accurate but not entirely true. How else do you explain 6 winning seasons in a 9 year span before Peter Angelos opened up his wallet in the late 90's?
When taking my little stroll down memory lane, I was more interested in the pre-playoff seasons of the early 90's, because '96 and '97 have been dissected and debated for the last 11 years, in absence of a winning season since. But more importantly, '96 and '97 are still too painful to bring up. Mention Jeffrey Maier or Tony Fernandez too loudly in Baltimore and you're taking your life into your own hands.
Anyway, I was the ripe old age of 10 years old during the 1989 season, and I remember bits and pieces of it like it was yesterday. Time has dimmed the glory of the rest that season, but images of Olson buckling the knees of Dave Parker, Dave Henderson and Mark McGwire are still fresh, as well as Mike Devereaux's home run bending around -- or over -- the foul pole against the California Angels (remember when their name was that easy to say?) and then back to Olson again, this time throwing consecutive wild-pitches at the SkyDome in the final series of that year, the series that decided the division winner.
Needless to say, 1989 is a combination of sweet and sour memories.
As a matter of fact, all of the Orioles' winning seasons have tasted like a Chinese dinner course, because I was only 4 when the O's won their last World Series in 1983. So pretty much every good memory I have of the Orioles ends badly.
But 1989 was special. Coming off a 107-loss season in 1988, the Orioles were expected to be terrible once more. But they... weren't. They were anything but.
Perhaps the fondest memory of that season is going to Memorial Stadium with about 13 or 14 people made up of friends and family. In around the third inning, most of us saw that the Brewers had beaten the Blue Jays who were running neck and neck with the Orioles for most of the season. But my dad, who is prone to be off in his own world (he fell
asleep
at a 1996 playoff game), stood up at around the eight inning and announced very loudly what the rest of the stadium already knew.
Early on in 2008, some overly optimistic fans compared the season to the '89 season, what with the mixture of young players and veterans comprising both rosters. But take another look at that '89 roster. There aren't as many veterans as some might remember. Out of their regular starters, Phil Bradley was the oldest at 30. Compare that to this year's O's team and you'll see that 6 of the 9 regular starters are over 30 (7, if you include Juan Castro).
However, both teams had a better-than-expected offenses, with the '89 team ranking 5th in runs scored and the current O's team at 6th on August 14th.
But the difference lies in the pitching. The '89 squad benefited from fluke year from 18-game winner Jeff Ballard and a respectable season from Bob Milacki. But the one strength of that team was the bullpen. Mark Williamson earned 10 wins in relief with a 2.93 ERA while Kevin Hickey, Brian Holton and Mark Thurmond also contributed nicely in the later innings. Then there was 22-year-old closer sensation Gregg Olson, with a 12-6, knee-buckling curve ball, who racked up 27 saves with a 1.69 ERA.
Early on in '08, it looked like the bullpen of the Orioles was going to be a strength, with Jim Johnson, Matt Albers and George Sherrill all going strong, but Albers went down with an injury and Sherrill has started to falter in the closer's role. Johnson looks like the real deal, but even he is starting to resemble a human being after all.
The rotation hasn't fared any better, with only Jeremy Guthrie as the stabilizing force. Daniel Cabrera is mediocre-at-best with a 4.78 ERA, but no other Oriole starter thus far has an ERA below 6.00.
So I think it's safe to say that any comparisons between the '89 team and the current one were premature.
After eventually losing the pennant to the Blue Jays in the last series of the season, the 1990 team failed to continue the momentum of the '89 season, and the team finished with a 76-85 record. However, #1 overall pick (a gift from the 54-107 1988 season) Ben McDonald broke onto the scene with a 8-5 record and 2.43 ERA. But things only got worse from there as the 1991 team came within 5 games of losing 100 and made what was the worst trade in the history of the franchise, sending Steve Finley, Pete Harnisch and Curt Schilling to the Astros for 1B Glenn Davis, who was out of baseball by the end of the 1993 season. Cal Ripken's MVP-winning season was perhaps the season's only bright spot of the '91 season. But as they changed stadiums, moving from Memorial Stadium to Camden Yards, the Orioles also changed gears.
The new look Orioles won 89 games their first year in Camden Yards behind Mike Mussina's 18-win season and Mike Devereaux's 24 HR and 104 RBI. The O's finished 7 games out of first place, but at least they were winning again.
In 1993, they went 85-77, good for third place yet again. Looking back, I envy these competitive teams, but back then, O's fans were frustrated that their Birds were good, but not good enough. As 1993 came to a close, O's fans were wondering if #1 pick Ben McDonald would ever live up to the massive hype that surrounded him, and wondering what happened to Mussina, who after a great '92 season, struggled with a 4.46 ERA. But on the offensive side of things, catcher Chris Hoiles bopped 29 HR and finished the year with a 1.001 OPS while Cal hit 24 dingers himself.
In 1994, things were looking up for the O's before the strike ended the hopes of not just the Orioles, but all teams in baseball that year. At the time, the O's were 7 games behind the Yankees, but with a 63-49 record, fans would have loved to see how it would have played out. They never got their chance. McDonald and Mussina led the rotation with 30 wins between them, and the strike cut short Mussina's quest for 20 wins (he had 16 when the work-stoppage took place in August). Mussina still hasn't won 20 games in his career, although he could have a chance to do it in 2008. Just not with the Orioles. As a matter of fact, Mussina's 20th win could come
against
the Orioles.
1995 saw the Orioles fire Johnny Oates as manager and hire lame-duck Phil Regan, who managed the team miserably to a 71-73 record in the shortened season after work started up again after the strike was resolved. Rafael Palmeiro blasted 39 home runs and Mike Mussina flirted with 20 wins yet again, this time winning 19 in only 144 games. The Orioles also traded for slugger Bobby Bonilla, who eventually helped the Orioles make it to the playoffs in 1996.
So the nostalgia ends here. We all know what happened in 1996 and 1997. Let's not relive the misery. It is better to remember the Orioles teams who played well, but never left us with the aching feeling of "what could have been" had Jeffrey Maier been sitting a few seats over in '96 and Tony Fernandez not done his best Bucky Dent impression in '97.